Hello.
To spread the word about the release of the brand spanking new album 'Radio Wars' today, we're offering the chance for anyone who changes their Facebook/MySpace/Bebo/iLike profile name/picture today to win;
- a free signed copy of the album,
- a limited edition Howling Bells tote bag
- and for those who can get themselves along, 2 tickets to any UK Howling Bells gig of your choosing
Fancy it?
All you have to do is change your profile name to 'Radio Wars... OUT NOW' or upload the album packshot (grab from
HERE
) then email info@independiente.co.uk with your profile url, your name and address and you'll be entered into the mix to be one of 5 winners.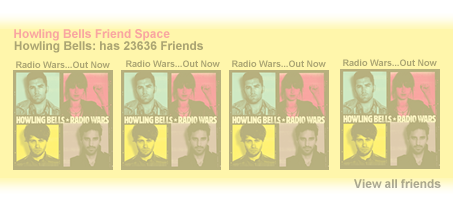 Lets see how many we can get! Winners will be announced Monday 9th March.
Don't forget that there's also a chance to meet the band and see them perform at the Fopp store in Covent Garden (WC2H 9LL) at 5pm TODAY! Would be great to see you all there.
Thanks!